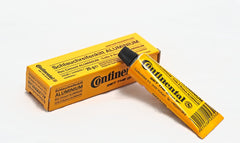 CONTINENTAL Tubular Glue (For Alloy Rims)
Famous glue for tubular tires from Continental for alloy rims. Simply the best. One tube contains 25g of glue/cement (usually enough for 1 tire, unless rim has never been glued on before). For both wheels you will need to order at least 2 tubes of glue. Always ask a professional bike mechanic for assistance to ensure the tyre is properly glued onto the rim.
Important: Use the special carbon glue if you have carbon rims.