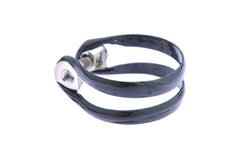 TUNE "Würger Skyline" Carbon Seatpost Clamp
Tune's Skyline range sets itself apart from the rest of their range with their even lighter weight weight and the absolute pinnacle in manufacturing techniques. At a mere 5 grams, the Wurger Skyline seatpost clamp is just about the lightest available - unsurprising given its minimalist carbon, titanium, and aluminum construction. Minimalistic & handcrafted in the Black Forest.
German engineering at it's best.
As each one is hand made, they can be custome made to any required diameter. Below are the common sizes we stock.